Invitation by Certificate of Eligibility
When a foreign national intends to land in Japan, unless certain conditions are fulfilled, the foreign national must receive a visa in principle.
This visa is issued by a Japanese embassy or consulate in a foreign country and it is displayed on the passport of that foreign national (in the form of seal or stamp).
In order to get this visa, the foreign national has to visit embassies and consulates in Japan and apply for it. In order to simplify and accelerate application procedures in foreign countries, Japanese Government start to use a new system call「Certificate of Eligibility」.
The flow of procedures for foreign nationals to obtain a "Certificate of Eligibility" in advance and to apply for a visa to overseas embassy or consulate is as shown in the following figure.
Those who want to apply for a Certificate of Eligibility for Status of Residence in Japan are required to find a proxy, the proxy is responsible for preparing documents for application, submitting the application form and answering inquiries from the Immigration Bureau.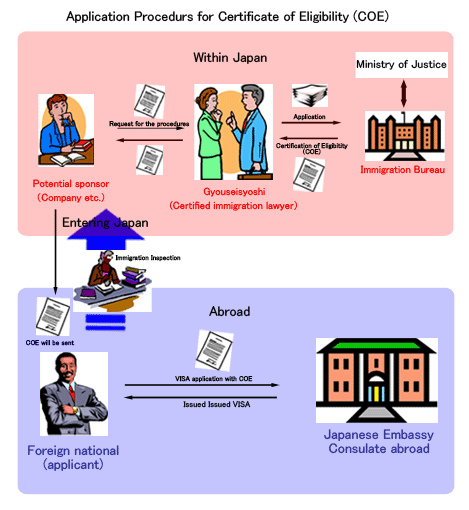 Extend period of stay
As stated before, the period of stay is decided when the status of residence is approved, but depending on different status of residence, there are different period of stays such as 3 months, 6 months, 1 year, 3 years etc.
Therefore, since the period of stay can not always be given as desired period, if you wish to stay beyond the approved period, please file a procedure to extend the period of stay before the period expires. It is called an application for period renewal permission.
This procedure is permitted in a relatively simple way when there is no change in the status of residence of the foreign national, that means, there is no changes of working conditions and no changes of family status.
Change of status of residence
If a foreign national want to do some activities that have not been approved by the current status of residence, it is necessary to prepare procedures for changing the status of residence in advance.
In this case, the procedure will be done when the application is in Japan. Although the procedure is differs from the application procedure of "Certificate of Eligibility" mentioned earlier, but the necessary documents is similar.
In other words, the difficulty of changing a status of residence is same as obtaining the "Certificate of Eligibility".
Acquisition of status of residence
Acquisition of a status of residence is a necessary procedure, for a baby who is born between a couple of foreigners residing in Japan.
When such a baby is born, a legal status of residence will not be issued automatically.so if the procedure is not done , the baby may be illegal stay in Japan.
In this case, the Immigration Control Act allows the baby to stay in Japan even if the baby do not have a status of residence for 60 days from birth, but if the baby want to continue staying in Japan after that period (of course that the baby's parents with it is necessary), even babies are required to obtain status of residence as well.
In this case, it is necessary for the baby's parent to act as an agent to apply for a status of residence on behalf of the baby within 30 days of birth.
Naturalization
A foreign national who continues to stay in Japan can acquire Japanese nationality if certain conditions are satisfied. This is called naturalization, the conditions for applying for naturalization are as follows.
Housing Requirements: Having an address in Japan for at least 5 years.
Capability Requirement: Based on Japan's law who is an independent individual and more than 20 years old.
Behavioral requirement: Behavior is good.
Livelihood Requirement: Be able to live on one's own self or have the ability to pay for livelihood or relatives living together have the ability to pay for the livelihood.
Loss Items: Lose the original nationality by acquiring Japanese nationality.
Philosophy Relations: After the date of the enforcement of the Constitution of Japan, the applicate should have not joined in any terrorist organizations.
Since these conditions are fundamental, they may vary depending on the circumstances of the applicant. In addition to these conditions, ability to read and write Japanese is also required.